The Academy of American Poets named April National Poetry Month in 1996.  Inspired by the success of Black History Month (February) and Women's History Month (March), it chose April, because, according to the Poets.org website, poets, booksellers, librarians, and teachers feel that April is the month that draws the most interest.  The goal was and is to encourage poetry reading year-round.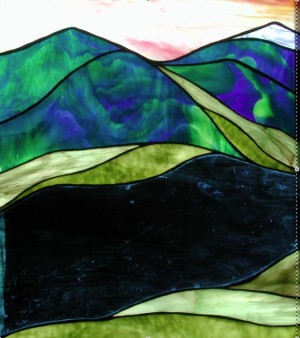 Stained Glass Window – Michel Barteau

For T.S. Eliot, April was the "cruelest month."  That's how he began his epic poem The Wasteland, a dark tribute to Ezra Pound.  But many would characterize April as a time of hope and renewal, as Chaucer did in the opening line of his bawdy, playful Canterbury Tales.  I hold with those who favor hope and renewal. Here's how Chaucer put it in Middle English:
Whan that Aprille, with hise shoures soote,
The droghte of March hath perced to the roote
And bathed every veyne in swich licour,
Of which vertu engendred is the flour…
(When April with his showers sweet
The drought of March has pierced unto the root
And bathed every vein with such liquor
Of which virtue engendered is the flower…)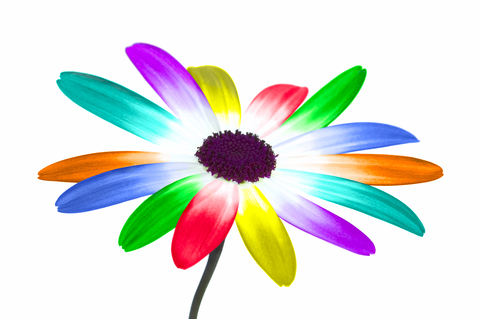 Any time is a good time for poetry, but April is a perfect time because it ushers in the flowers of summer and lifts the spirits. For me,  April is also a month crowded with special birthdays and some major losses. Among the special birthdays is the featured artist of the Purple Scooter Poetry website, Genevieve Wood, whose 96th  anniversary is April 10 (www.purplescooterpoetry.org). In tribute to her, to her poetic gifts and love of language, here are a few of her playful pieces of light verse.  She wrote them as greetings to friends and colleagues and called them "squibs" to differentiate them from serious poetry.
She wrote squibs like these throughout her life for people she cared about, sometimes including a nudge to challenge better action, always witty, usually to celebrate a birthday or some other special occasion.  In most cases, she delivered them along with an appropriate gift or two, and always a unique and beautiful art card whose theme often matched the message. She kept a shopping bag stocked with unusual and imaginative little gems that she would buy during the year, knowing that an opportunity would arise to bestow them.
One of her endearing qualities was that she was a shopper and a giver by nature. In later years when she was homebound, she shopped by catalog, but regardless of how she did it, she always seemed to have the ideal gift for someone.  About the nature of giving, she wrote:
Variations on a Rhyme for Reason
(While Contemplating the Mereness and Bareness
of a Modern Christmas Card)
For most of us, giving's done all in good season–
Most rare are the givers who give without reason.
With pure reason, the many are heard to suppose:
"It's the season of giving (sigh) what goodness knows…"
But the season is infinite, far beyond time
To some, who give on without reason or rhyme.
The crowd, with scant reason, calls Christmas a day—
While the few keep in season, December or May.
For me, it's a typical season of giving;
For you, I have reason to know,
Giving's living.
For Ursula Nordstrom
(colleague and friend, producer and publisher,
Harper & Row Junior Books, 1971)
Young owl, get wise to UN's ways—
She's listed in Who's Who-oo-oo,
For, every spring and fall she lays
A golden egg or two-oo-oo.
[You must have been nocturnally
Precociously audacious
To have become diurnally
Ferociously sagacious.]
Pewter-Colored Tie
(For friend Raymond T, Christmas 1976)
I bought a pewter-colored tie
To please a pewter-loving guy.
I later thought, "you silly jack—
A pewter anything turns black!"
And so it did.
Don't hesitate to take it back.
For Dorothy Hagen
(friend and colleague, producer,
Harper & Row Junior Books, May 1973)
Oh, none so down-to-earth as she,
None give such level looks
As Dorothy Hagen, V.I.P.,
Producer, Harper Junior Books.
No camera yet has truly caught
Her wise, all-weathered face—
Sky-gazer, sailor, astro-naut,
At home at sea, in outer space.
No sickly bed can hold you down,
With your fine brawn and brains—
You'll freeze the medics with your frown
And give them all your pains!
For Charlotte Zolotow
(publisher/editor, author, and friend,
Harper & Row Junior Books, June 1972)
You've reached the zenith, Madam Z. —
A corner office, wall-to-wall,
Where you and he—or it—or she
Can stage an editorial ball.
And happy birthday, Charlotte, moll—
Your gifts aren't given yet;
Last year, you gave us William's Doll—
Now, give us Ruth's Erector Set!
Noncents Verse
(friend and colleague, Nini I , April 7, 1970)
I tried to buy a pelican…
And settled for some dill-
But "pickle" sounds like "pelican"
And far outshines the Pill.
I tried to give you health-dried fruit
–So here's some Tiger's Milk.
You might call that a pure cop-out
–At least, I didn't pilk.
(So look it up, smartie.)
I tried to find a birthday card
Depicting Zimnik's bear
Um…how about this 'tired lion
Lounging in his lair?
Happy birthday, Nina I.—
I like your chutzpah—don't know why.
To the Hoyden of the Chameleons
(excerpts)
(for friend Marianne P)
All I can do is laud your charm
In most atrocious verse,
And say "I take you for my friend,
"For better, not for worse."
You deserve a thumping ode
Or brainy villanelle–
For a gal who's crowding forty
You've got plenty left to sell.
May this year bring you what you crave,
And whom your mind desires–
Happy birthday, "Soft and Tough,"
–Keep building icy fires!
Happy Nativity to Jesus Christ Spina
(excerpts)
(For friend John S)
John boy, son of Jesus Christ
By virtue of your good,
Here's a plug from ugly me—
That evil old bag, Wood.
December born, a virgin doll,
And crucified from birth,
You've earned your crown a million times
On this ungrateful earth.
Jesus John, I'm soft on you,
Although I seem a thorn—
A star shone bright in my East sky
The day that you were born.
I'll take an earthly guy like you
Instead of pure J.C.;
You give so freely of yourself—
What's J.C. given me?
You move my bed upon your head
And save me untold wealth—
You call me on the damnèd phone
To check my dumbnèd health.
JOHN SPINA SAVES, no doubt of that—
And JOHN IS LOVE, to boot:
If you're in jail, or sick, or lost,
JOHN SPINA GIVES A HOOT!
Wheelchair Acrobat
(For doctor and friend Ellen P, April 2008)
I like to hug the people I like
So I became the clown
Who learned to hug upstanding ribs
While staying sitting down.

Memo
(for Navy Col. Georgiana Remer,
May 1973)
   To the AWOL officer of the day:
Old sailors simply fade away.
Not me-e-e-e-e-e–
The Purple Scooter Poetry website contains a section called Performance and Imagery.  One of our featured artists there, Gillian Bradshaw-Smith, recently created a series of paintings titled Zeus Takes Pity on Daphne.  This group of six "poems" is extraordinarily creative and insightful. It will elicit joy and awe on every viewing. Here are two in the series. To view the whole group, go to http://www.purplescooterpoetry.org/pp_performance.html .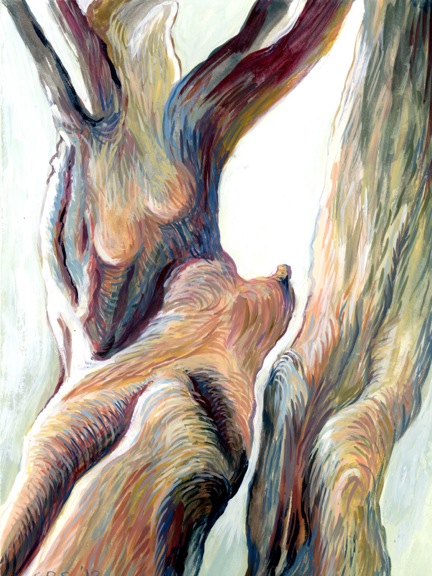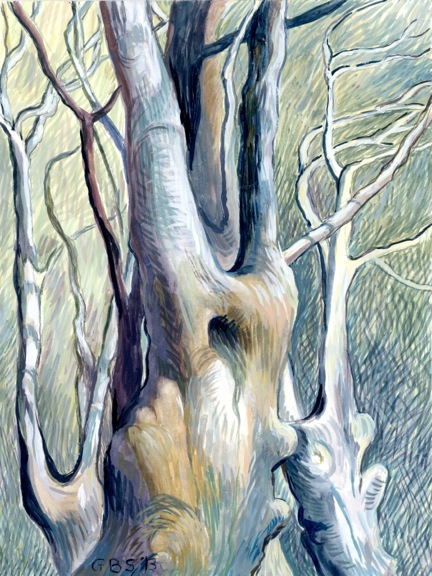 One of Ms. Wood's favorite poets was Dylan Thomas. April is as good time as any to anticipate the coming celebrations of the 100th anniversary of this great Welsh poet. Thomas was born on October 27th, 1914 in Laugharne near Swansea and died November 9th, 1953 in New York City.  For people lucky enough to be traveling in the U.K. this year, The Dylan Thomas Festival 2014 will begin this month in his hometown. This fall–from October 27 to November 9–people can treat themselves to special festivities at The Dylan Thomas Center in Swansea. Throughout the year a variety of recitals, plays, music, workshops and other events will be held elsewhere around the U.K.. (Go to http://dylanthomas100.org/, 
http://dylanthomas100.org/english/events/dylan-thomas-festival-2014/), and http://www.dylanthomasboathouse.com.)
For fellow New Yorkers and visitors to the City, a Dylan Thomas Walking Tour of Greenwich Village can be taken now or any time during the year. The tour introduces areas of the Village frequented by Thomas during his four periods of residency.  The tour can be either self-guided or tour-guided. See http://www.dylanthomas100.org/english/trails/walking-tour-of-greenwich-village or http://www.newyorkfuntours.com/dylanthomas.html .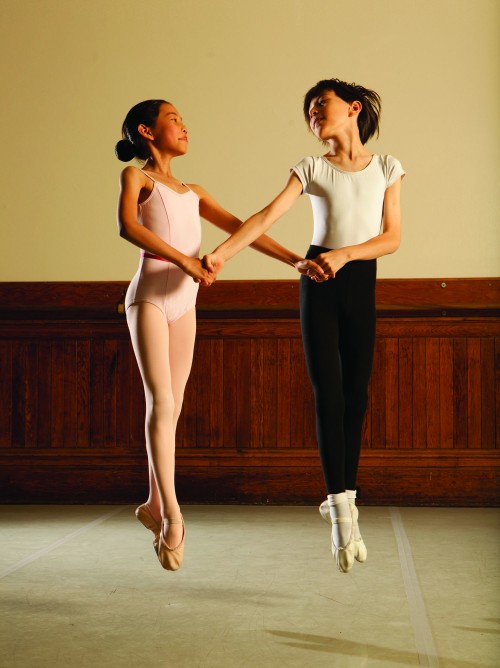 Which brings me to flowers that will blossom later this month.  The children of Ballet School NY, the affiliate school of New York Theatre Ballet, will be featured in the Company's Dance on a Shoestring studio performance. They will choreograph their own dances, direct the sound, do their own costume designs, and set the lighting. They will also write the program copy and be responsible for their own publicity. This special program is for anyone in the Metropolitan area who loves kids and their eagerness to create.  The show is within easy reach at 30 East 31st Street (corner of Madison and 31st in Manhattan). It's an hour-long program, April 25th and 26th at 7pm (phone 212-679-0401 for information).

One last flower.  On April 1st, I sent a disk of paintings and drawings from the estate of a recently-deceased friend to Sotheby's for review.  Among them was this gem, a golden butterfly, my personal favorite…a lovely poetic image.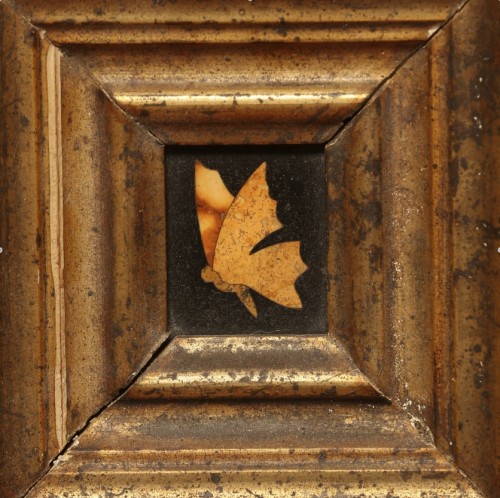 Happy April everyone.  Here's to hope and renewal…to you and your loved ones…and to the coming of Spring and Summer!
Gail Spangenberg
(Editor, Purple Scooter Poetry website and blog)
Note 1:  The squibs presented here and the images shown above are all copyrighted.
Note 2:  If you haven't read the blog posting, Poetics of Aging, which preceded this one, you will find a link to it at the upper right of this page. That piece resonated with many of our readers and you may want to read some of their remarks at the end.