Dear Friend of Purple Scooter Poetry,
As we move into 2012, I would like to observe one of 2011's sad losses in poetry, Steuben Glass.  On December 23rd, this great American icon closed its doors, ending over a century of exquisite crystal glassmaking.  This remarkable glassware will not be made again–although the poetry the Steuben artisans created for more than a hundred years will be preserved in the Corning Glass Works museum in upstate New York, and in a very large collective memory.
The tone of a Steuben glass or vase, when tapped at the rim, rings out with the greatest clarity. The crystal's purity and its classic forms and designs are legendary. Steubenware graces museums, the palaces of royalty, the homes of presidents and prime ministers, and homes of ordinary people throughout the world. It stands for the finest, the most eloquent, the quietest kind of beauty. Steuben's closing is an enormous loss to the creative soul of America and to people everywhere.  But the world is a better place because its artists created such incredible beauty for so long, and because its poetic creations continue to live on in both public and private spaces.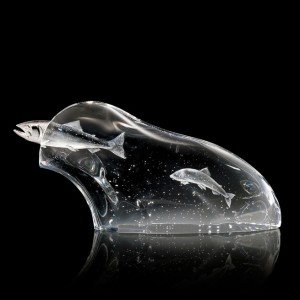 Running River
Designed by James Houston
4 1/2″ x 10″
"Tribute to the 'lord of the fishes,
the mighty salmon.'  A great fish
with a sculpted silver head leaps
from the wave-shaped crystal form
with bubbles to suggest the raging
water.  The second smaller salmon
is copper-wheel engraved on the
rear of the glass." [Steuben]
Today is New Year's eve, tomorrow begins a new year.  While remembering one of the best things in our past, it's time to herald the year ahead, and to be hopeful about our futures.
I recently came upon this haiku by Kobayashi Issa, a New Year's greeting expressed with humility and reverence.
New Year's Day–
everything is in blossom!
I feel about average.
For many of us, no new year can begin without a round of Auld Lang Syne. There is some dispute about whether the poet Robert Burns wrote all of the lyrics to Auld Lang Syne, with its many chorus variations.  But he is credited with writing at least the first two stanzas, which he set to an old Scottish folk song he loved:
"There is an old song and tune which has often thrilled through my soul….Light be the turf on the breast of the heaven-inspired poet who composed this glorious fragment! There is more of the fire of native genius in it than in half a dozen of modern English Baccanalians."
Auld Lang Syne is often referred to as "the song nobody knows." Here are Burns' undisputed two stanzas:
Should auld acquaintance be forgot
And never brought to mind?
Should auld acquaintance be forgot,
And auld lang syne!
(Chorus) For old lang syne, my dear,
For auld lang syne.
We'll take a cup of kindness yet,
For auld lang syne.
May 2012 bring more kindness and gentler impulses, deeper friendship and kinship–to our hearts, our nation, and our world–than we've seen in 2011.  May your new year be infused with remembrance of good things past and uplifting thoughts about the future and poetry's place in it.
Good health, and happiness to all!
Gail Spangenberg
P.S. Two moving You Tube renditions of Auld Lang Syne :
http://www.youtube.com/watch?v=acxnmaVTlZA (Dougie MacLean)
http://www.youtube.com/watchv=ZGBb7IbY56k&feature=related
(Mairi Champbell)